By:  Robert Mueller
The misleading natural claim is not just limited to pet products…
The word "natural" can be defined as "existing in or caused by nature; not made or processed by humankind".
By this definition, most dog foods on the market today would NOT be able to be classified as "natural". And you would think that a diet that contains chemicals that you can't pronounce, and offers ingredients that are of low quality and are far from being "natural" would not qualify as a natural pet food product. But it's not quite that simple…both in the human and the animal realm.
Here's the way the FDA (Food and Drug Administration) sees it for us humans:
"From a food science perspective, it is difficult to define a food product that is 'natural' because the food has probably been processed and is no longer the product of the earth. That said, FDA has not developed a definition for use of the term natural or its derivatives. However, the agency has not objected to the use of the term if the food does not contain added color, artificial flavors, or synthetic substances."
It gets a bit trickier when it comes to pet food labels.  (Why is this so often the case?)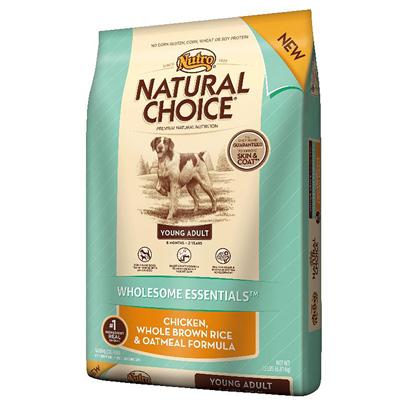 "Natural" in the name doesn't mean that the ingredients are.
According to AAFCO:  "Natural" – A feed or ingredient derived solely from plant, animal or mined sources, either in its unprocessed state or having been subjected to physical processing, heat processing, rendering, purification extraction, hydrolysis, enzymolysis or fermentation, but not having been produced by or subject to a chemically synthetic process and not containing any additives or processing aids that are chemically synthetic except in amounts as might occur unavoidably in good manufacturing practices.
You might want to read that again.  It's a direct contradiction to the definition of the term "natural".  And if you think about what happens in a rendering facility and everything that gets "rendered" (just about everything) the definition is really quite meaningless.
In essence, almost anyone can call their product "natural" without repercussion, making it all the more important to be vigilant in your study of the labels of pet foods on the market today.
Why is it important to use "natural" ingredients in a pet food diet? Using heat to process a dry pet food creates a much different result than what Mother Nature intended.  I like to use the analogy of what happens when you cook an egg. Once the alteration and chemical structure is changed there is no way to reverse it. Unfortunately, once it has been altered, the utilization and function is changed and becomes less effective in the body.
The bottom line for all pet caretakers is to try and find the right fuel for the tank. Which ingredients and what processing method produce the most advantageous nutritional result.  Ask yourself this question; which diet produces the most natural, untainted, source of balanced nutrition for my pet?
Depending on the processing, good ingredients could lose their potency.
When all comparisons are made, it is really easy to pick out the winner. The one diet formula that meets the challenge of superior ingredient quality, lack of heat processing, and elimination of harmful chemicals and toxins, is a natural, raw meat diet – the BARF Diet.
There are few that can challenge the winner based on these specific criteria.  Each pet food product carries specific advantages and disadvantages. No pet food item is 100% a winner in all areas, but it is a hard challenge to find one that supplies the maximum nutrient advantages of a raw meat diet while offering the convenience and health promoting properties unmatched by commercially prepared formulations.
Ben Franklin was remembered for establishing what he called the pro/con comparison chart.  He suggested that you take a piece of paper and draw a vertical line down the middle of the paper. On one side, list all the reasons why the product or situation is advantageous and on the other side list all the disadvantages. Your decision will become immediately clear using this exercise because the side that lists the most advantages is the winner.
Try it for yourself and see if you agree with all the benefits of the "BARF DIET".  You might also want to review all the qualifications for use of the term "natural" if you see it on your pet food label.
Fortunately, the "BARF DIET " philosophy does qualify as a naturally formulated pet food and as such can consciously be labeled as biologically appropriate for the species.
-Robert Mueller
Robert Mueller, BSc, Pharm. is a registered pharmacist, author of "Living Enzymes: The World's Best Kept Pet Food Secret", and co-developer of BARF World's BARF diets patties, nuggets and supplements – the first company to make the Biologically Appropriate Raw Foods (BARF) diet conveniently available to animals everywhere.  To receive more articles like these in your email inbox, click here to sign up for "The Intelligent Pet" weekly e-zine absolutely FREE!